SoleMate Sox™ are the world's first magnetic socks that cling together in the wash+dryer, eliminating lost socks. If you've ever lost socks on laundry day, SoleMate Sox is your sensible solution+matchmaker for lost socks.
Designed+curated with love in the USA, each pair of Sox is knitted with the highest quality butter soft breathable bamboo- keeping you cool in the summer and warm +cozy in the winter. Our Sox are moisture+odor wicking keeping your feet dry and funk free. You'll walk, run, dance and climb on our super cushioned footbed and extra padded heel+toe for dreamy cloud-like comfort. Machine wash warm. Made in the USA. The best part of all, our magnetic patent-pending technology clings the mates together. Our Sox are NEVER LOST! Shop the online store.

The New Mini Soles Kid's Collection is here. Shop today!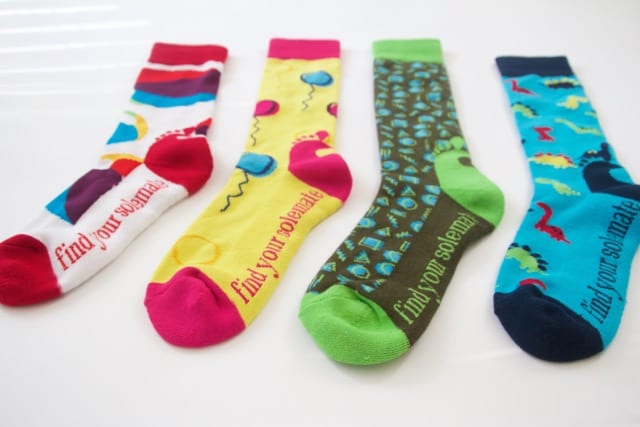 As a former television newscaster and life-long storyteller who loves and appreciates art, I wanted to not only invent a simple solution to an everyday problem but I also wanted SoleMate Sox™ to express something more emotional that represents love. Each pair is thoughtfully designed with love to tell a story.
Our artists, which also include my children, approach each new original design with passion and inspirational conviction to draw, paint or pencil palettes that are fun, vibrant, colorful and purposeful. We want you to be excited about wearing your socks and we want you to experience an emotional connection- from the minute you open your package and every time you wear them. SoleMate Sox ™ are designed and manufactured in the the USA-something we are extremely proud of!