This is the time of year when many people express how tired they are of their closets and their clothes as they transition from one season to the next. It's also the time when many people just want to scrap everything and start fresh. A complete wipe out may not be necessary but sprinkled cleansing edits may be more practical. Here are my 6 ways to whip your wardrobe into shape. WATCH!
1. Get Organized– Sort through your tops, bottoms, and accessories. Group them together. You could even color code and sort pieces by type; meaning all short sleeved tops together, denims together and so on. If that's much too OCD for you, start gradually and at least sort like-minded pieces together. That's a sensible way to see what you have and it makes getting dressed in the morning simpler and less stressful.
2. Hang it Up– Purge+toss the wire dry cleaner hangers and upgrade to sturdier ones that match in style and color. Hang your heavier pieces like cardigans, blazers and some sweaters on strong hangers like wood or velvet. Hang your trousers on grip clip ones so they hang without the risk of the permanent crease. Since I'm a Maxxinista, I tend to shop T.J. Maxx for quick organization ideas and reasonably priced bundled hangers. Other shops like The Container Store, Target and Bed, Bath, and Beyond have wonderful organization and storage solutions too. Joy Mangano Huggable hangers are another smart option.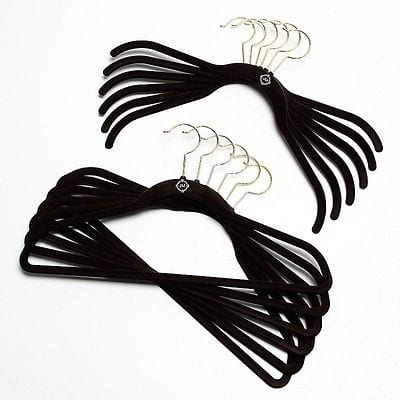 3. Toss or Keep– Some of your pieces should've been tossed fifteen years ago but there's the thought that you'll one day wear it again and because we are emotional creatures, letting go is one of the more difficult necessities of life. Clothes conjure certain memories- good and bad. The bad, we have no problem tossing or burning but the good…well, hello, 20 year old mom jeans! There's the top you wore on the first date, the dress you wore when he asked the ever important question- what you were wearing on your senior high school trip and on and on. The reality is, the memories are in your head and heart, not necessarily in the clothes. Chances are, it's time to update those ill-fitting pieces and trade them out for something more classic and literally timeless.
  Three questions to ask yourself when deciding whether or not garments should stay or go:
Why am I really holding on to this?
Have I thought about it in the last three months?
Am I comfortable and confident in it or am I constantly adjusting or tugging at it?
If for Question 1 you answer that you think you'll get back into it one day, it should probably go. It's important to set realistic goals and update your wardrobe with something that fits your body frame. If it's a piece from the past, your body has likely changed and it's probably time to replace it with something more current. If you're gripping for sentimental reasons, letting go can be a little tricky. What's most important is how you feel when wearing it and if it compliments the current you. If you're losing weight, you can certainly look to those 20 year old jeans as motivation but be reasonable with yourself. If you're in between sizes, wait until you're done with the weight…loss and then buy pieces that fit.
If your answer is 'no' to Question 2, then it should probably go or you could always ask me at Nothing2Wear how to incorporate it into your everyday wardrobe and style. If you've shopped a sale and bought a top without a matching bottom or vice versa, you may be confused about what to wear it with- again, my Re-Style and Re-Wear session will show you how to work it into your wardrobe.
Question 3– If you're not comfortable and confident wearing something, it shows in your demeanor, your body language and it's communicating a message to those around you. You should feel good. When you feel confident in your outfit, you stand taller, you walk bolder and your facial expression and body language are sending positive vibes. What you wear is so important  to your overall attitude about yourself, about the day and about your outlook on life. Constantly tugging or adjusting your outfit is no way to get through the day.
Former First Lady Michelle Obama always comes to mind when I reference this point because she embodies not only an effortless and natural sense of style but she constantly amazes fashion editors with her wardrobe choices. She's relatable in the brands she chooses like J. Crew, Gap and Target but she also understands the importance of her role and communicating messages with her color choices and outfit decisions. She understands that as First Lady, she's communicating messages with every single choice. Author Kate Betts writes in her book, Everyday Icon, Michelle Obama and the Power of Style, 'in many ways she [Obama] personifies the difference between fashion and style, between the desire to fit in and the natural inclination to stand out. Style is just as much what you do and how you do it.' We all won't be a First Lady but Michelle Obama's sense of comfort and confidence are glowing examples of the elevated style we can strive for.
Another idea is to literally trade them online and make some cash. A marketplace I've just learned about is Tradesy. It's a landing helipad for all your by- gone treasures. On your laptop or mobile app, women can buy and sell designer fashion straight from their closets and you keep 91% of the sale.
4. Buy Classic Staple Pieces– Trends in fashion, colors and styles may not suit you. Think of it as getting the wrong hair cut. You may see a fantastic hairstyle in a magazine, rip out the page and run straight to your stylist, telling them, 'I want that!' If the cut doesn't compliment your features, it will just look bad! Your wardrobe should share the same rules. Just because the magazines are telling us what's hot and what's not, does not mean you need to suddenly revolve our wardrobe worlds around it. Buy what fits your style and body frame, in hues that illuminate your eyes, cheeks and inner beauty. It all depends on your personal style but here a few staple must-haves- crisp white oxford shirts, black trousers, a basic black dress, pencil skirts, black blazer, a denim jacket and a few more accessories like scarves, belts and bags. The basics allow you to re-style and re-wear them with other pieces already in your closet without anyone knowing it's the same piece; a Nothing2Wear win. As mentioned before, how you feel internally, about what you're wearing, will automatically cause your clothes to fit a certain way.
5. Accessorize- You can never have too many scarves, belts, statement jewelry, bags and shoes (your significant other may disagree but who the hell cares). Accessories punch up your look and your compliment count. T.J. Maxx, again, is a wonderful place to stock up on affordable fab finds.
6. Book A Closet Cleanse+Re-Styling Session– Whether you need a major wardrobe overhaul or you just need to learn how to re-style and shop in your closet, Nothing2Wear is the first step to a happier closet and a happy new you!