Tina has a closet full of clothes but she usually wears the same uniform from one week to the next. The story has millions of LIKES because it's relatable. The purpose of this Nothing2Wear Style Session was three-fold, 1- style Tina for an upcoming wedding weekend, 2- purchase a few staple timeless pieces+accessories she could incorporate into her current wardrobe+ 3- show her how to put it all together by mixing&matching clothes she already has.
My style sessions begin in a client's closet to asses their current wardrobe situation and figure out what we should shop for. I realized, Tina only had a handful of black or midnight navy formal looks that she'd worn time and again to various events. In every photograph she was wearing the same looks, styled with the same accessories. Tina really needed some fresh finds and she needed color!
What We Bought– Tina bought two outfits which include two tops with distinctly different styles, two skirts- one solid pencil skirt, one patterned A-line and a few accessories.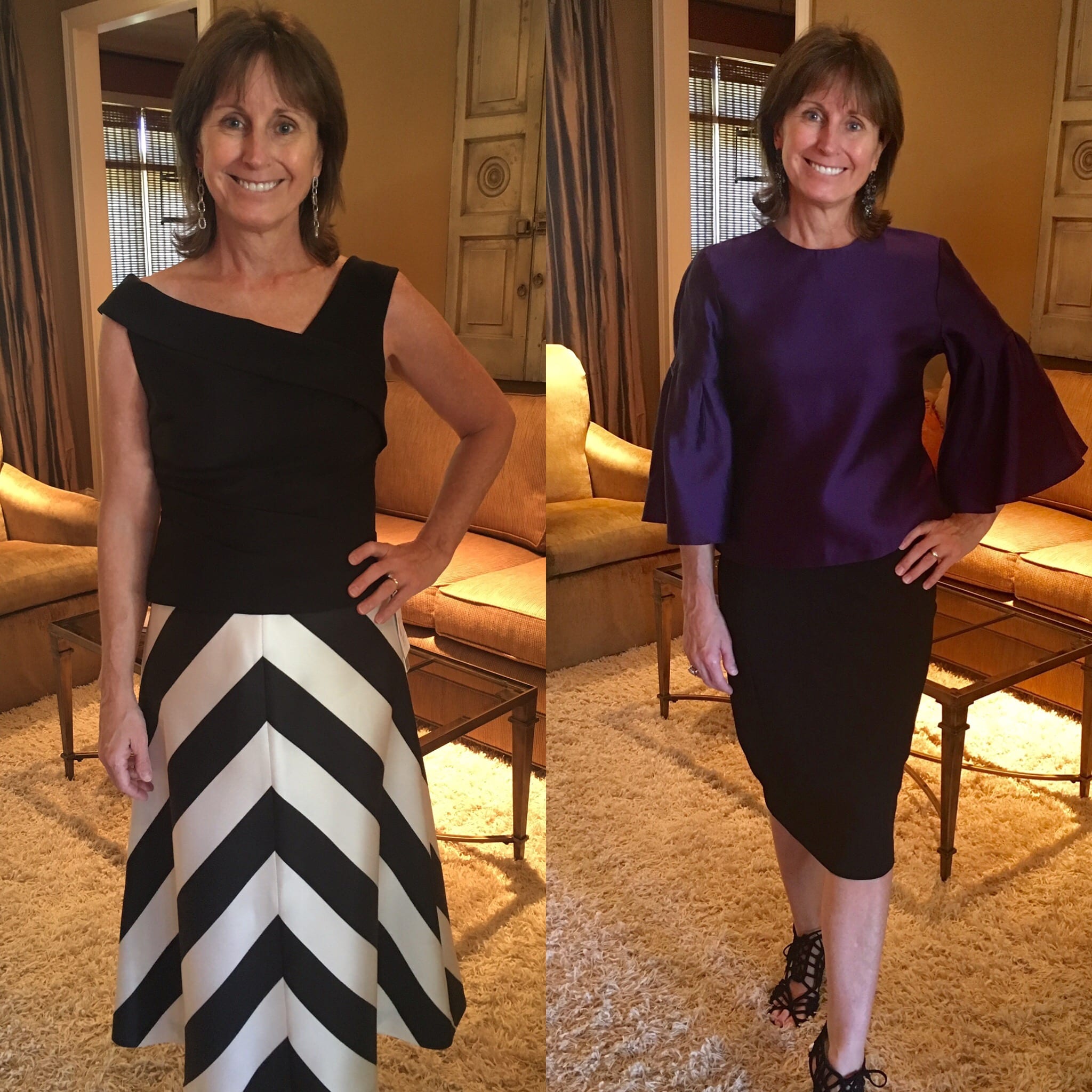 Goal– My goal was to choose classic, timeless, more form-fitting separates that Tina could style both dressed up or casual. Ultimately, I wanted to eliminate habit buying and update her wardrobe and also give her a host of new looks that she could toggle between throughout the entire wedding weekend and wear again in her everyday life.
Style Session– Tina has an amazing silhouette that can handle cropped tops, above the knee skirts, and tops that accentuate her shoulders. The two outfits pictured above are what Tina purchased. From there, I worked my Nothing2Wear magic, styling several new looks.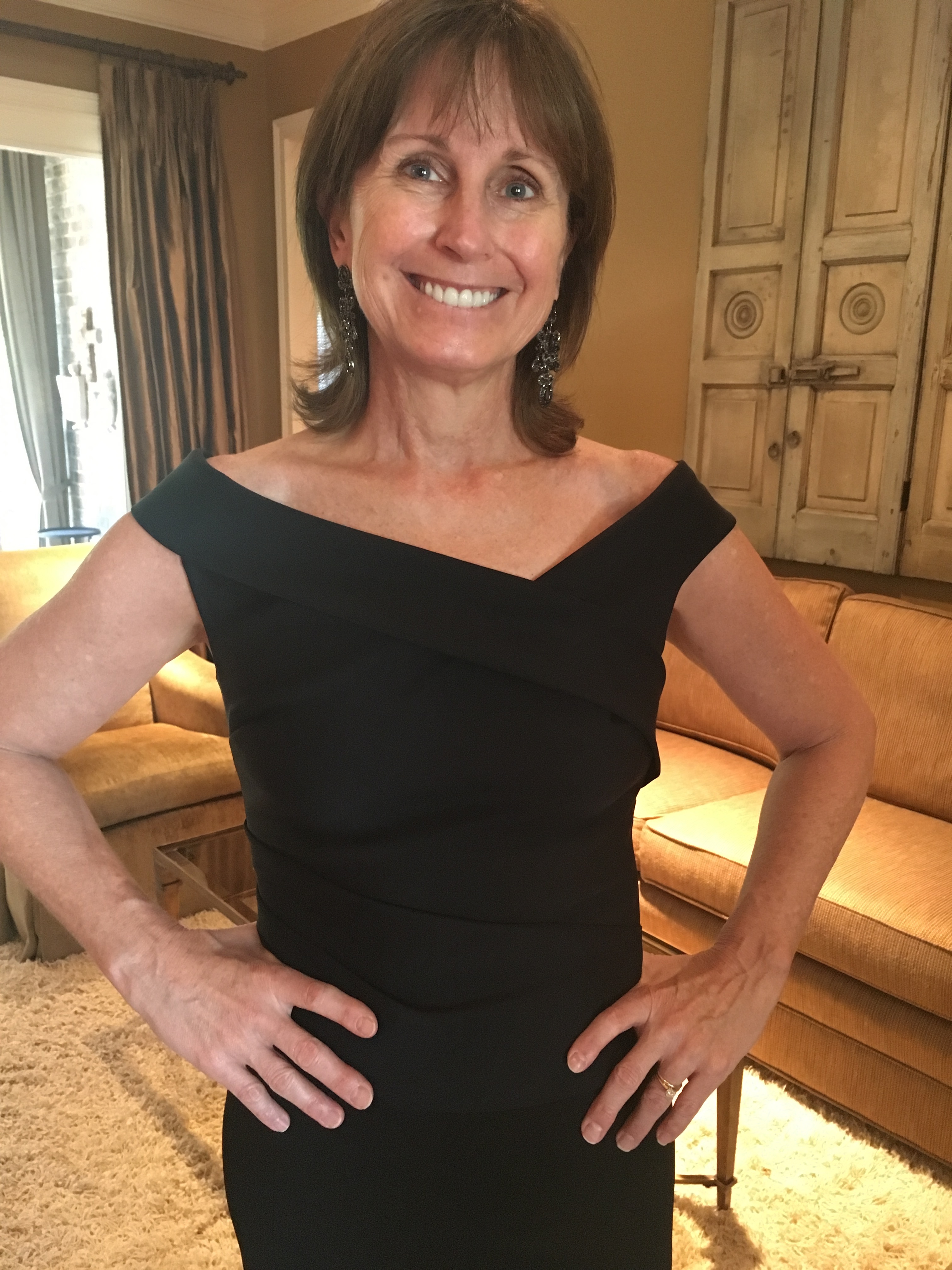 Look 1– I styled the off-the-shoulder top with a sequin mini (already in her closet) and cutout lace up booties which accentuates her toned legs. The satin finish in the top gives Tina an opportunity to wear it both dressy and casual.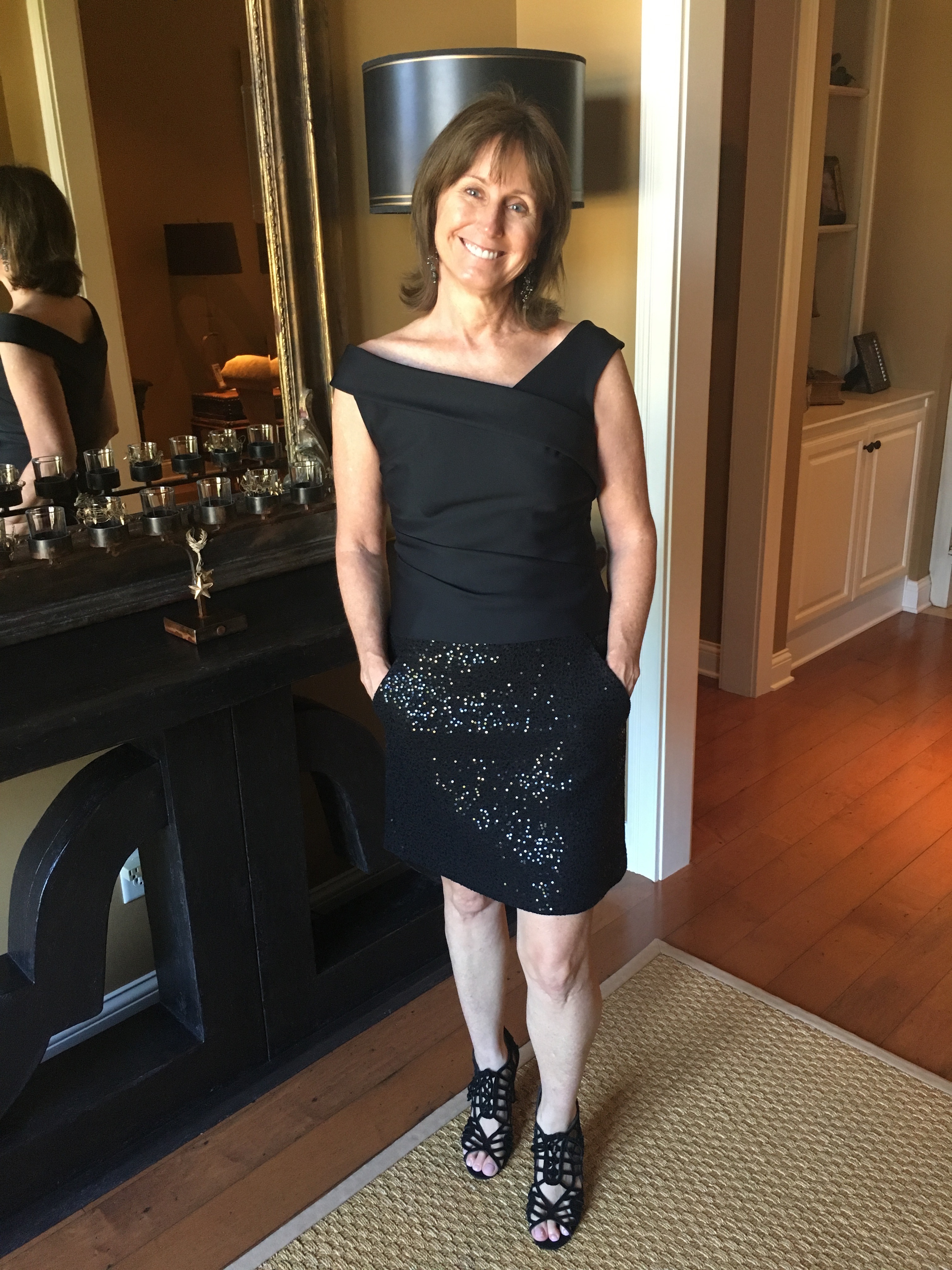 Look 2– We accessorized by pairing a stylish glitter silver clutch that ties in the skirt.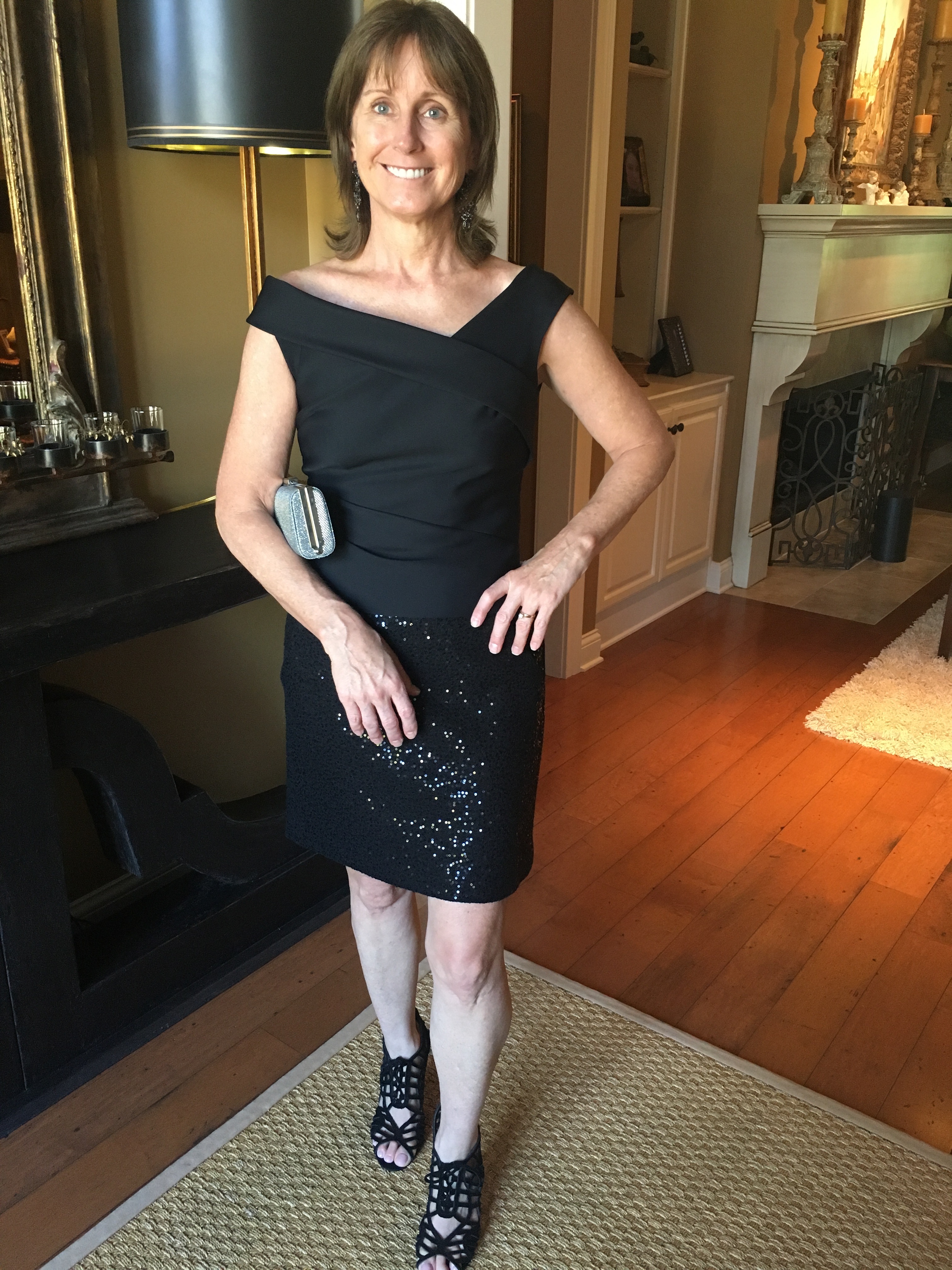 Look 3– Tina is still wearing the same top but I wanted to toss in bold pattern. Mission accomplished with this gorgeous striped A-line skirt.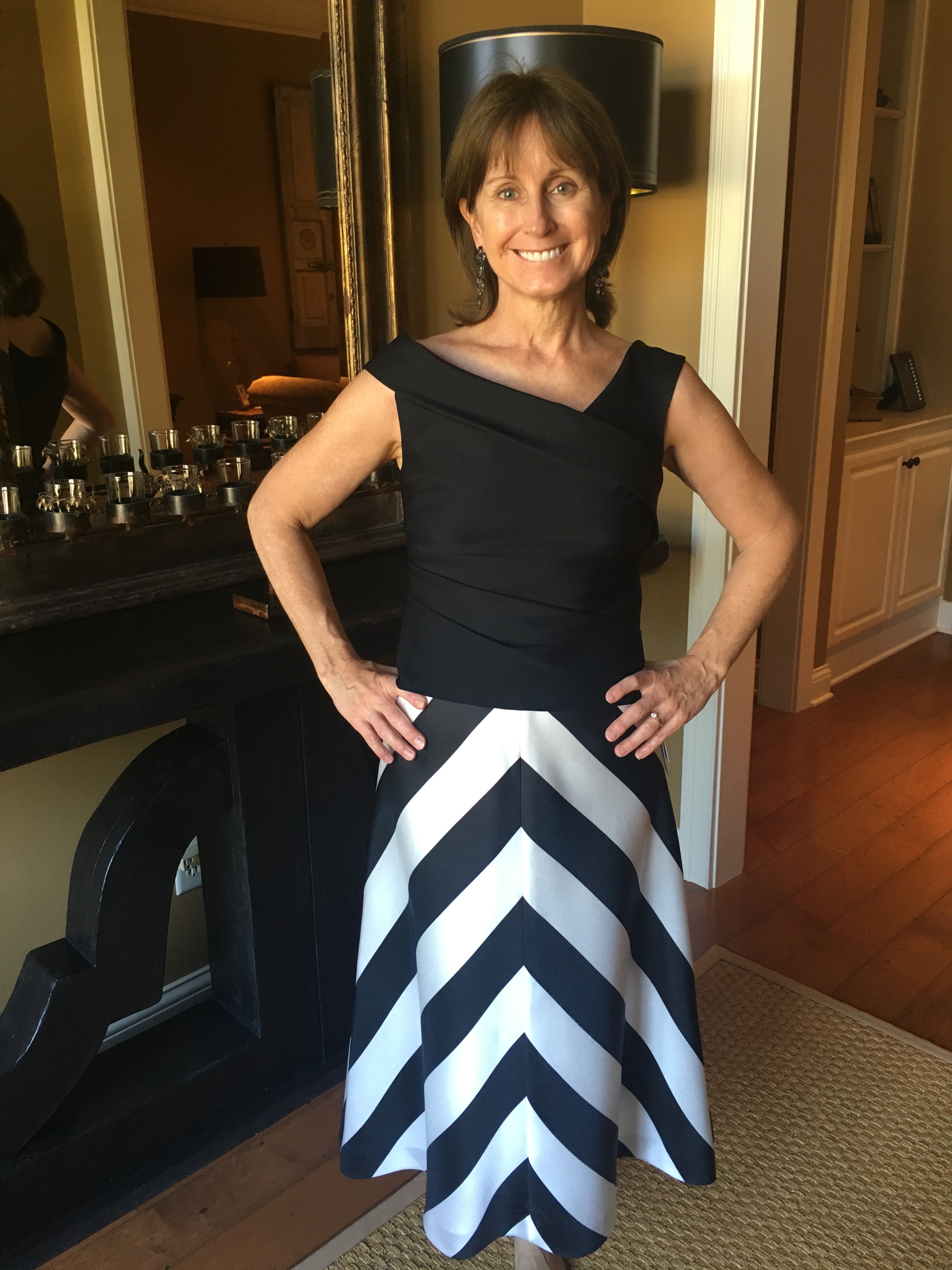 Look 4– I'm partial to an all black look, so styling the top with a straight black pencil skirt was a must. I accessorized with black chandelier earrings.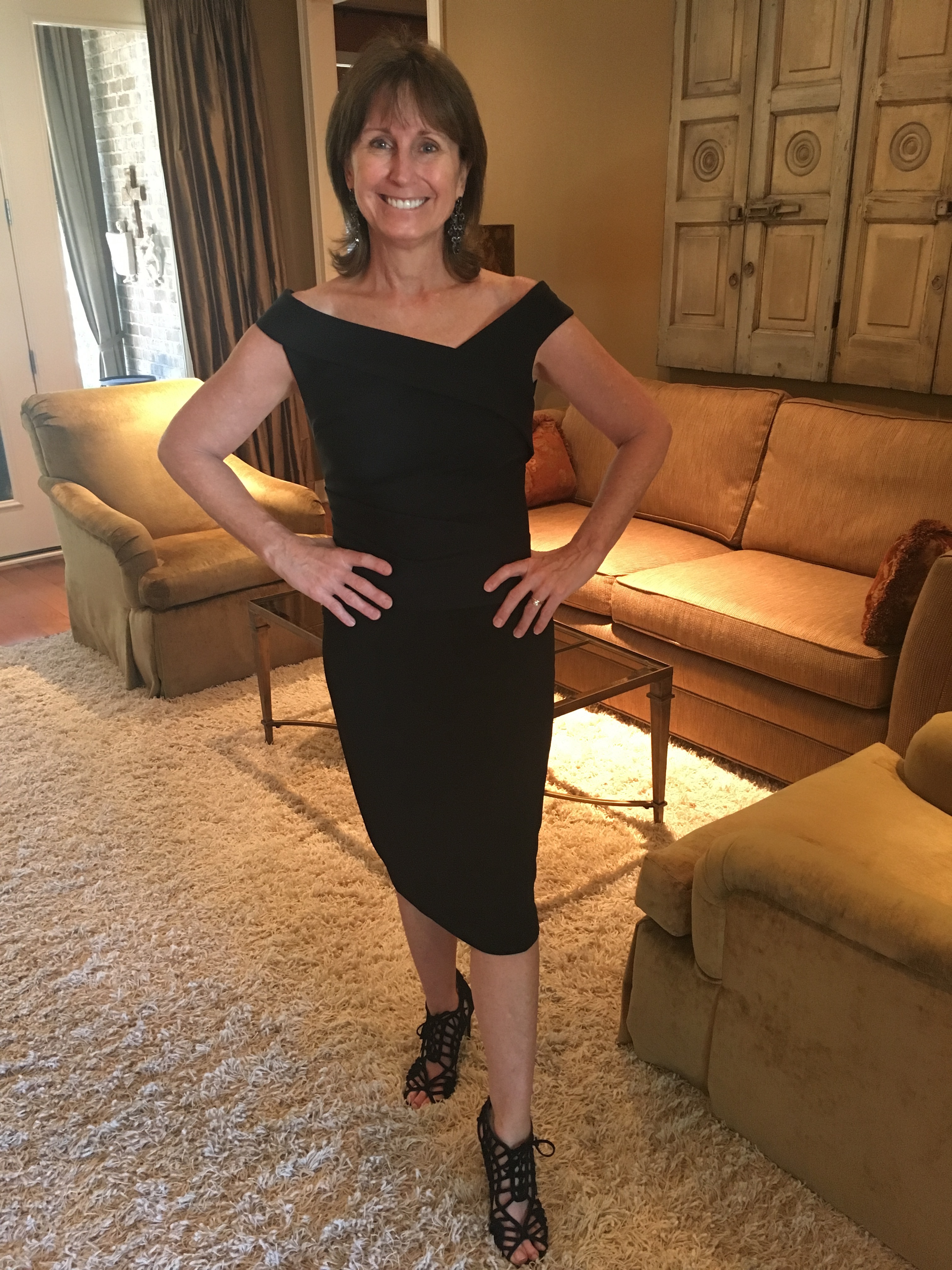 Look 5– To take it down a notch, I created a casual look that's perfect for a dinner date with friends. Tina is accustomed to wearing long button down tops which can throw off the proportions on her 5'2 frame. A cropped top that falls right at her waist not only elongates her legs but also divides her body into distinct sections. Shorter tops also balance her silhouette, differentiating her torso from her legs. The pillbox geometric clutch is to die for and gives her look an element of glam.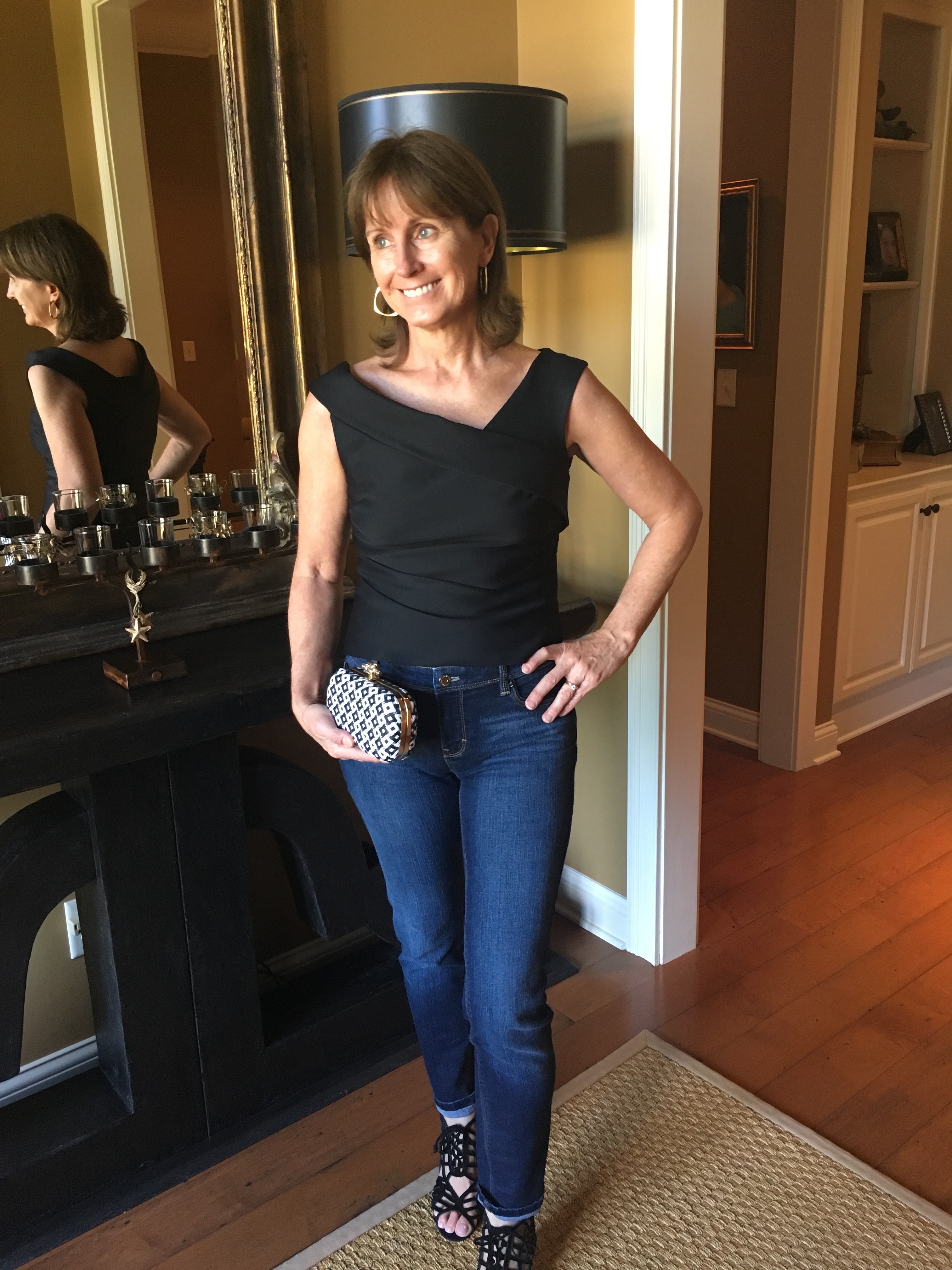 Accessorizing: It's important to pull out your jewelry box and get more wear from those family heirlooms. A lengthy pearl necklace is sexy and classy and can double as a choker or a longer statement piece. We also switched out her earrings to rhinestone chainlink chandeliers which tie in the glitter skirt and silver clutch.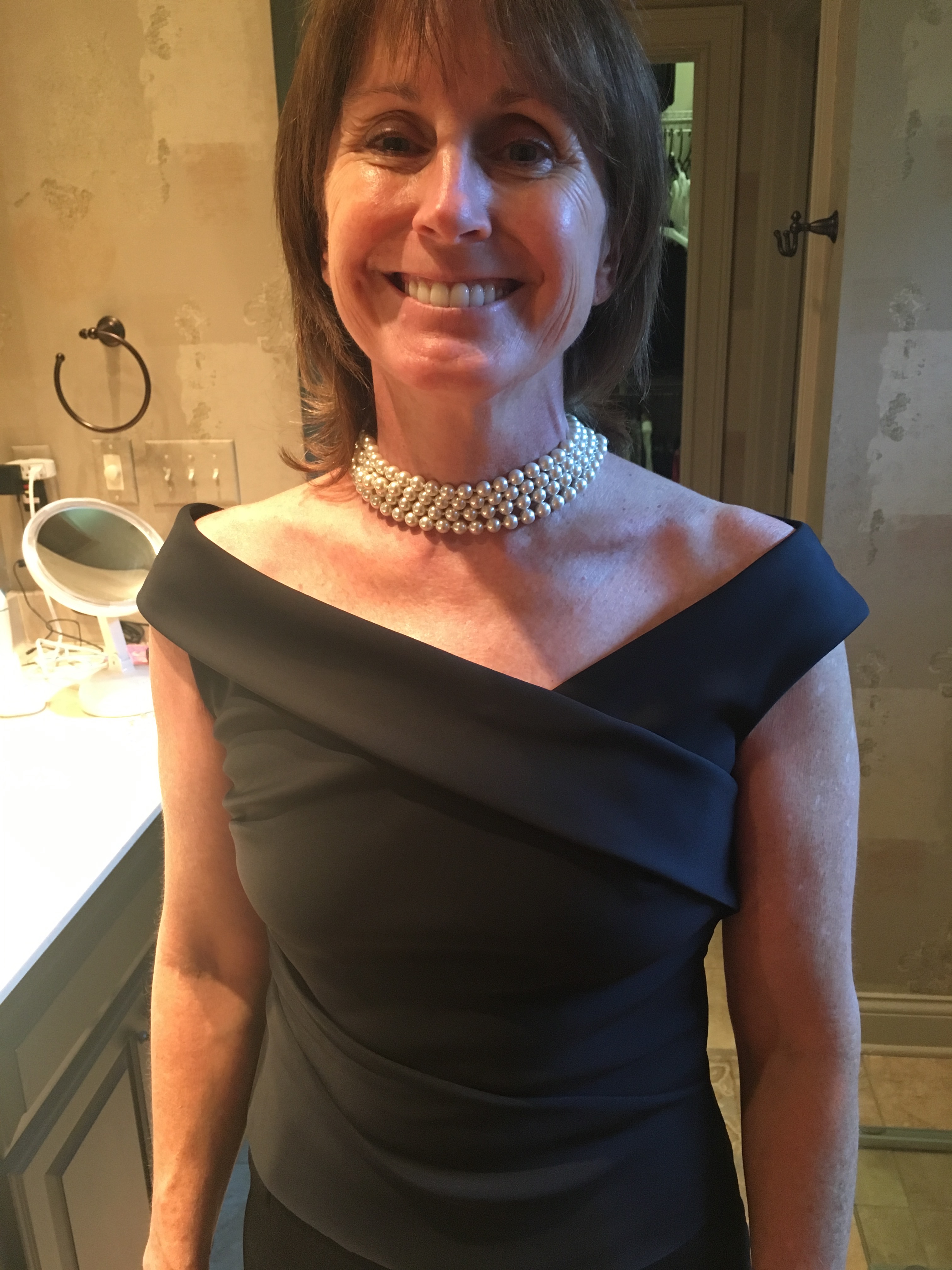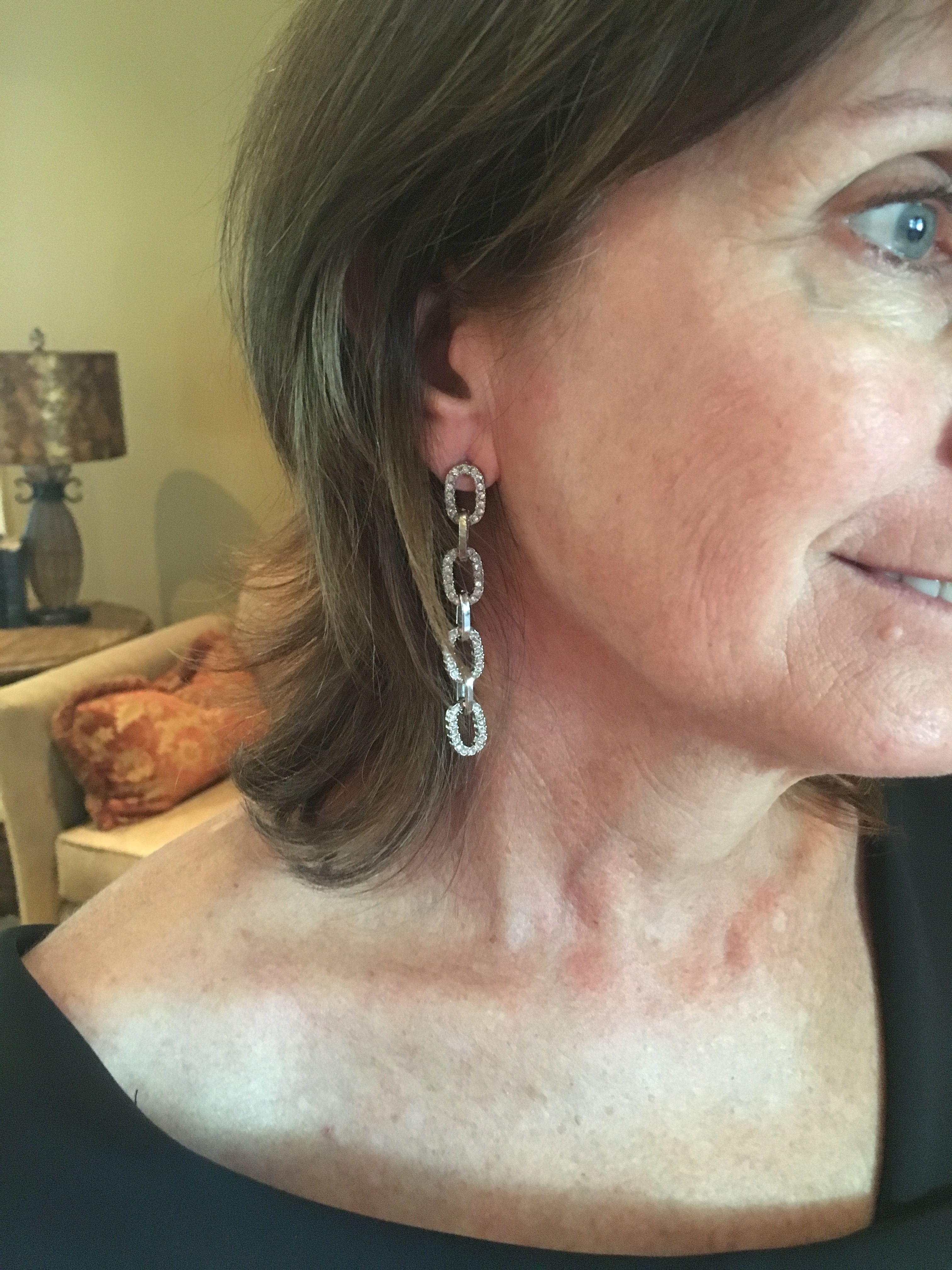 The Purple Bell Sleeve Top: Tina needed color in her closet and she needed more modern pieces. I love garments with glamorous designer details. Bell sleeves add drama and sophistication to any look and the wonderful fact about this top is that it too is versatile. Tina later had the length of the top shortened to better fit her proportions.
Look 1: Styling the top with a black skirt is obvious but choosing the right style is key. A straight pencil skirt creates a clean line and defines Tina's curves. Wearing clothes that aren't too loose or too snug and that fit your body is important because it boosts your confidence and helps you look neat and feel refined.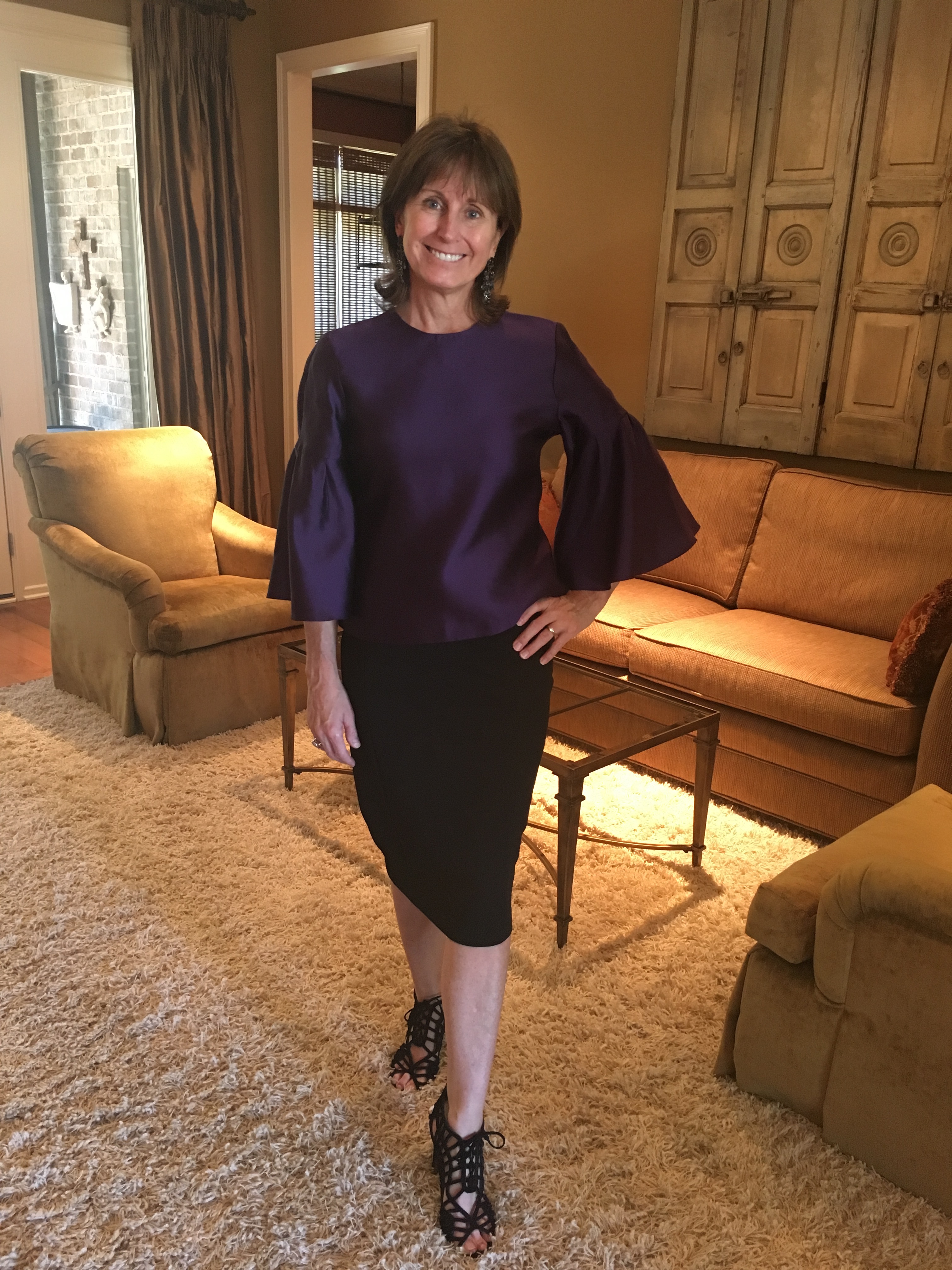 Look 2– If Tina wanted to keep on the top but scale down a bit for cocktails after the main event, pairing jeans is an easy way to give the outfit a new look. Pearls again can be the finishing and polishing touch. Every girl should have a strand of pearls in her accessories caboodle.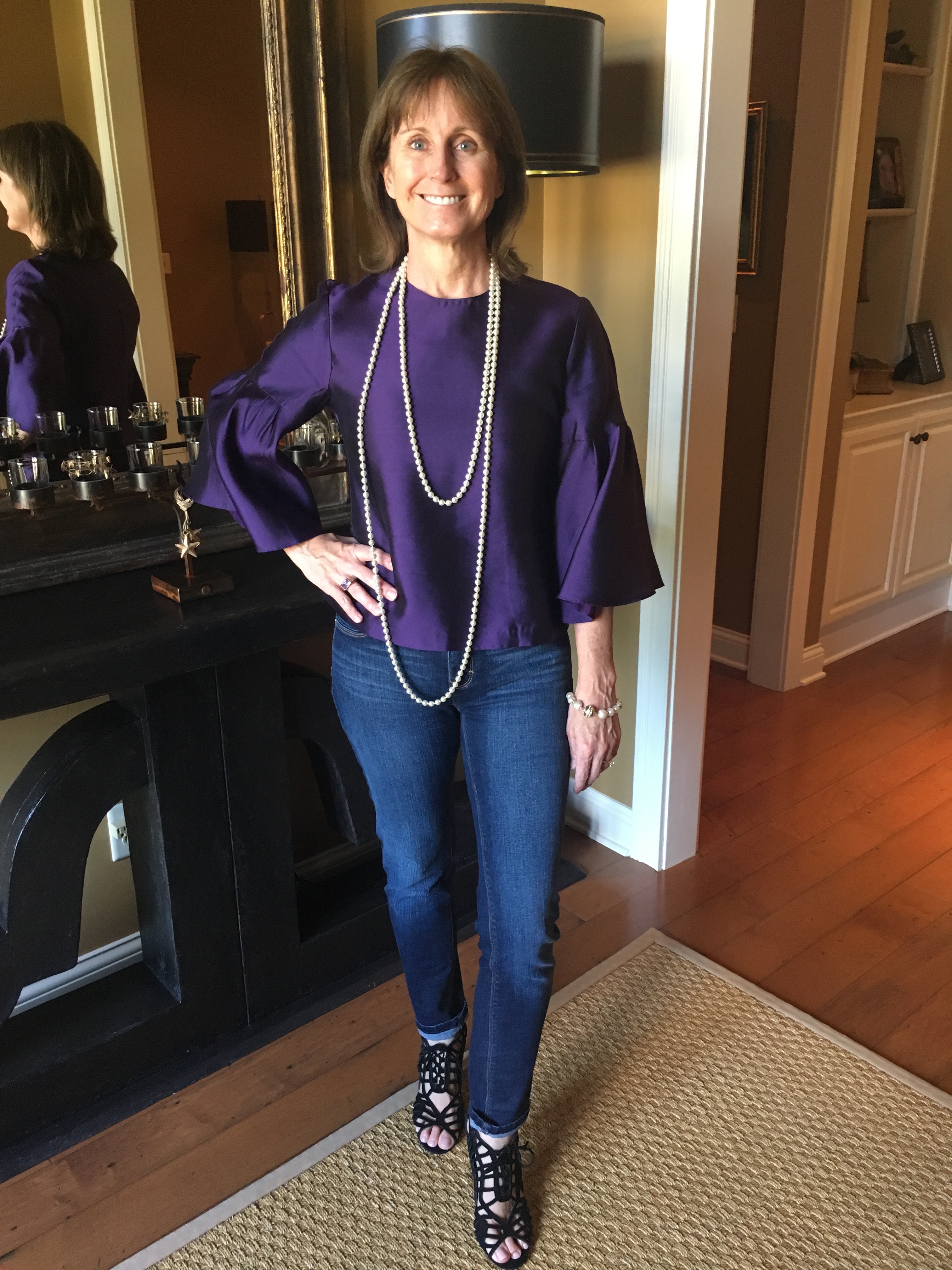 Look 3– When I saw this statement necklace in her closet, I went bananas! It can be paired with any color and any style top. It's something Tina hardly wore because she didn't know what her options were. Platinum paired with plum is a gorgeous color combination and the necklace…