Pregnancy is joyous, for some. The nine months did not agree with me. I was terribly sick during all three of mine, throwing up nearly everyday. Not to mention trying to find something cute to wear, with my ever growing body, saddened me to more sickness. I never bought "maternity" clothes. They just didn't suit me and I always felt like they made me look like a hot air balloon. I bought regular clothes like tees, dresses, and low rise jeans in larger sizes. That strategy worked great post-partum. As I slowly morphed back to my pre-baby body, the make-shift maternity clothes were great because I restyled and re-wore them until I didn't need them anymore. I did hang on to a few pieces which came in handy when I felt like wearing something baggy.
Now that I'm a Fashion Therapist, 'what to wear when you're pregnant' is a question I get asked often. My recommendation is to add a few non-maternity, versatile staples to your closet. They work as your body grows during the nine months and then post-baby, you can Restyle+Rewear them- saving your budget for more important things like diapers, bottles, a car and college. YAY!
In another Nothing2Wear exclusive, here's how to transition your non-maternity wardrobe from pregnancy to post baby. 
Look 1– Let's start with this pleated maxi as the foundational staple. I love this piece! Tangerine is an awesome summer hue and it transitions perfectly into Fall. Maxi dresses are also wonderful because they are roomy, which allows for space to grow.
Spring Transition– is made simple by pairing a printed komono. The dress compliments the same hues in the komono and can be worn day or night.
Accessorize– by layering a simple choker necklace and a longer statement piece.

How to Re-Style+ReWear Post Baby– The key is accessorizing. The komono can certainly be paired again with the dress but to create a trendy Fall look, I suggest you introduce darker hues. The cognac fringe belt is a great addition and the fringe adds a sophisticated element of detail.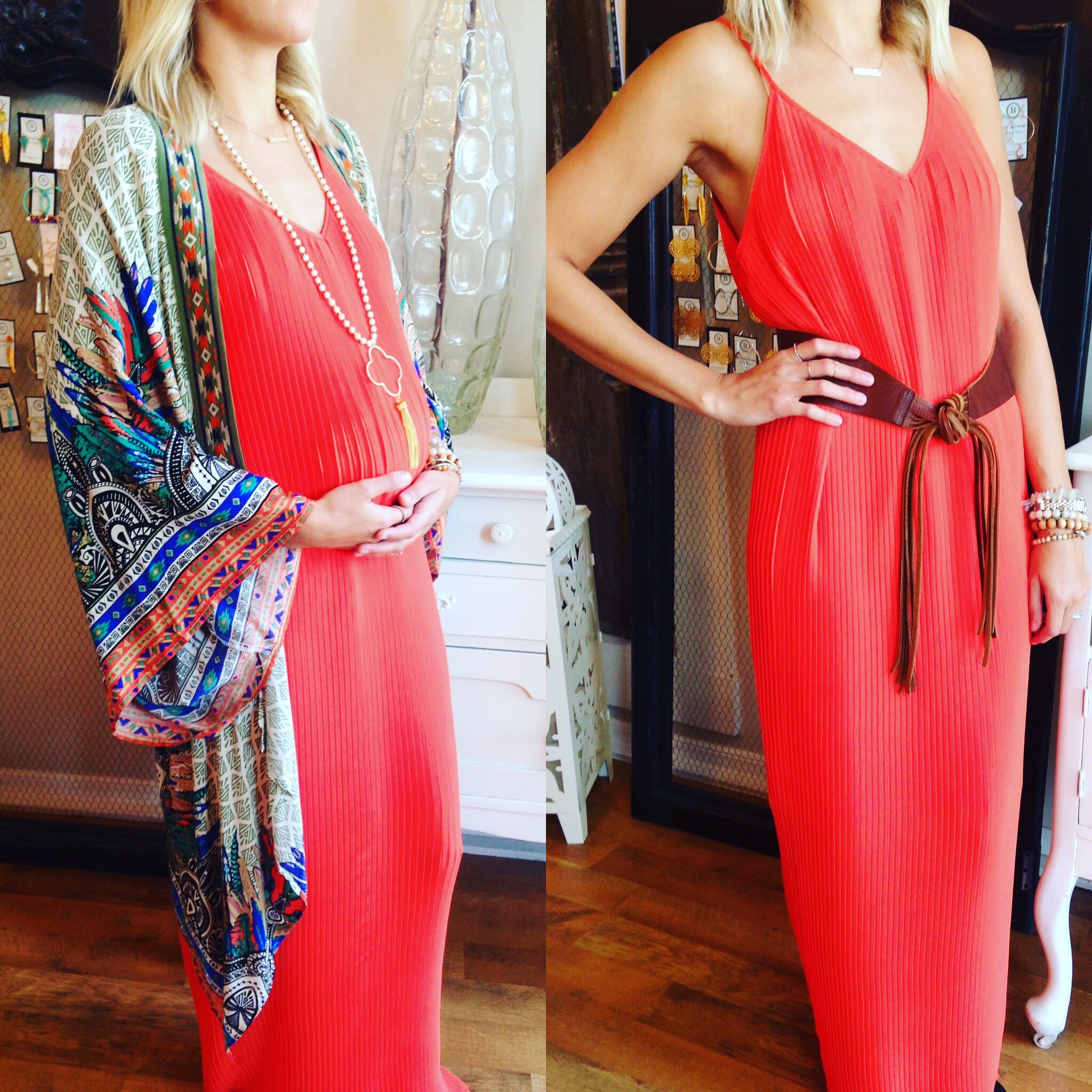 Look 2– Stripes are not only on trend but they create a stylish illusion, making your curves seem less curvy. As I've previously written about in Elite Daily, stripes can be a challenge but if styled correctly, they can create a wonderful illusion and trick the eye. The key is to stick to thinner stripes, especially if you're curvier. You'll want to stick to the basics, like black, white and navy. Other combinations don't work as well. Certain fabrics also make a difference when it comes to being comfortable in your clothes. This dress is a more fitted, spandex jersey fabric that moves and grows with you and your bump.
Accessorizing– Add a pop of color and artistic detail.
Transitioning– Introducing a long hoodie vest in bordeaux, is fab. Each of these pieces can be mixed and matched with an array of other options already in your closet. When cooler temps blow in, the same look can be re-styled with a white oxford layered underneath the dress and tall boots. The vest can be re-styled again with a white tee and denims. 
How to ReStyle+ReWear Post Baby– Once the baby is born, get centered again and find your waist by belting the entire look. Belts create a glowing silhouette and help you get back to feeling like your body belongs to you once more. A luggage braided belt adds fashionable detail.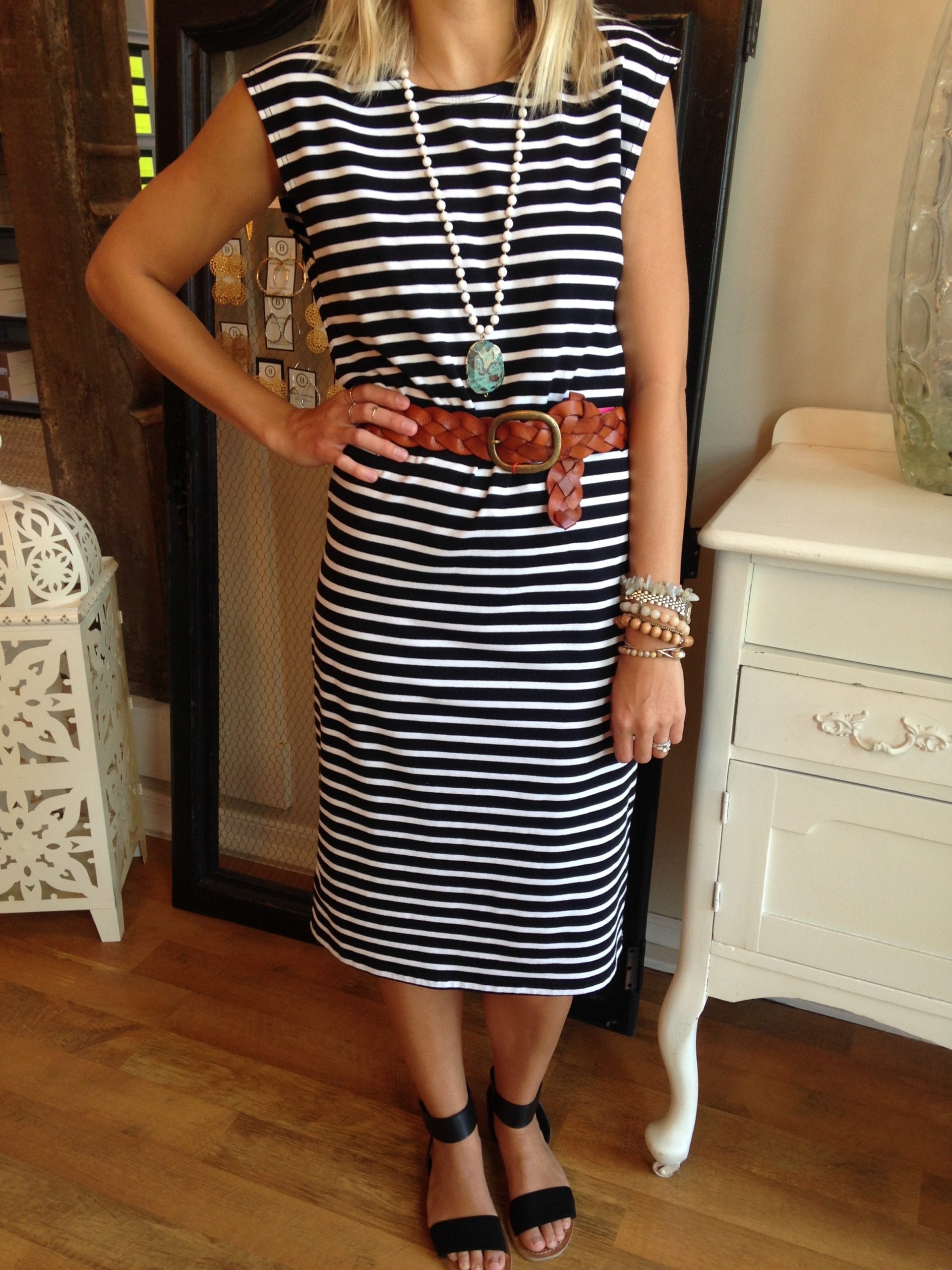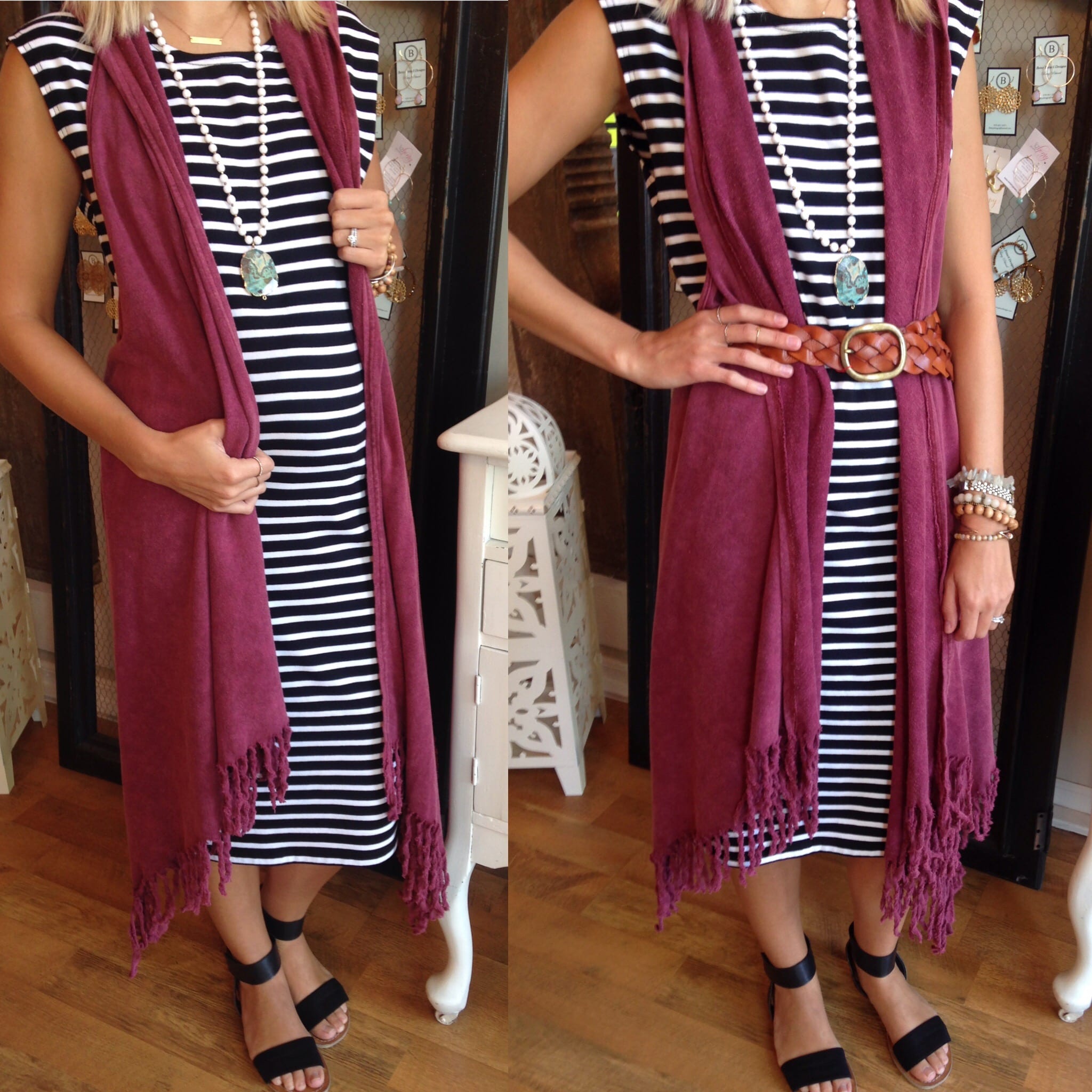 Styled by Catenya McHenry, ReStyle Expert
Looks by Lucca Boutique
LOOK 1
Tangerine Pleated Maxi- BCBGeneration
Printed Komono- Flying Tomato
Cognac Fringe Belt- Cobalt
Statement Necklace- Betsy Pittard Designs
LOOK 2
Striped Dress- Mink Pink
Long Hoodie Vest- Pol
Braided Luggage Belt- Elise M.
Statement Necklace- Betsy Pittard Designs