There are times when I feel like my closet needs a full overhaul because I can't find anything to wear. Just when I pace my closet in frustration, vowing to toss everything, I run across a classic gem. Such is the case with this honey gold corset. It's about 10 years old. I originally bought it together with a red floor length full skirt to wear to a Christmas party. Another occasion, I paired it with black velvet pants. I've probably worn it once every few years but this time I thought, 'I should pull this out and restyle it as a layering piece for a casual Fall outfit.'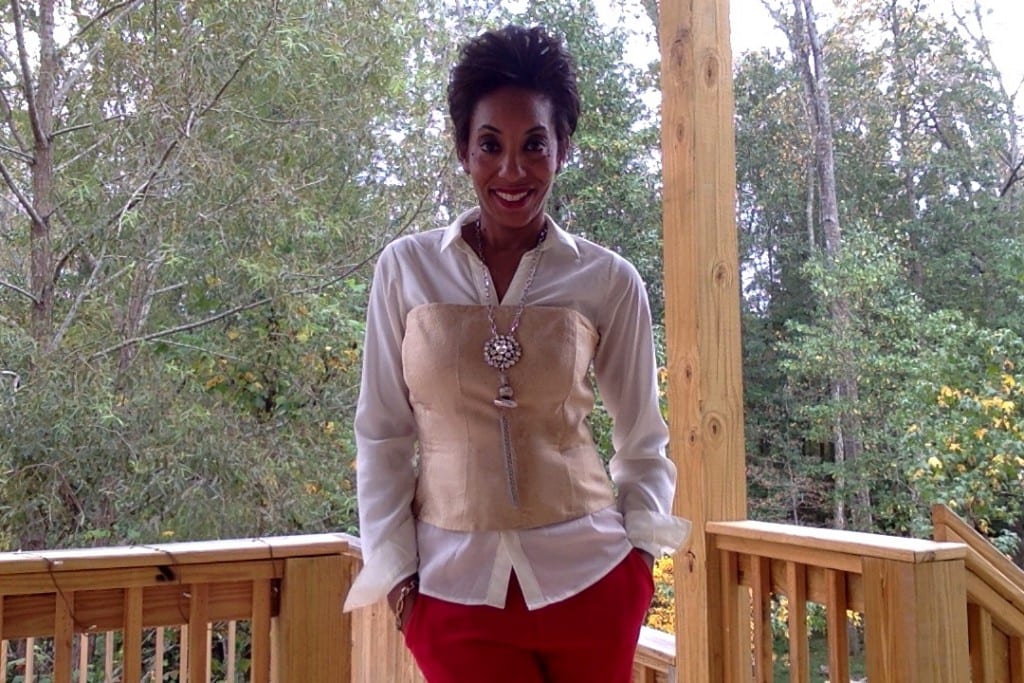 When it comes to purging, tossing out is not always necessary. As a fashion therapist, I often tell my clients to purge pieces that they haven't thought about in three months. That rule also depends on the classic nature of the piece. Some items are timeless keepsakes that you can hold onto because they can easily be restyled to create a completely different look. Consider this when deciding whether or not to keep or toss- is the piece mis-sized- too big or too small, unflattering or the wrong color for one's skin tone? In those instances, I immediately suggest a toss out. If you still can't figure it out, shoot me an email to book a closet edit.
Back to the corset- I've decided to hang onto to this a bit longer because it can be versatile. It can be worn as a strapless top or layered with an ivory blouse- like I did here. An ivory blouse should be a staple piece in every girl's closet for several reasons. One, it's a classic feminine piece, pairing perfectly with anything- under a blazer, with a midi skirt, under a summer maxi, with denims and flats or even with shorts. Second, its light and airy, making it a great go-to year around. Third, it can be tucked or untucked, creating perfect proportions. Last, an ivory blouse can turn any summer outfit into a Fall one, just by layering it underneath.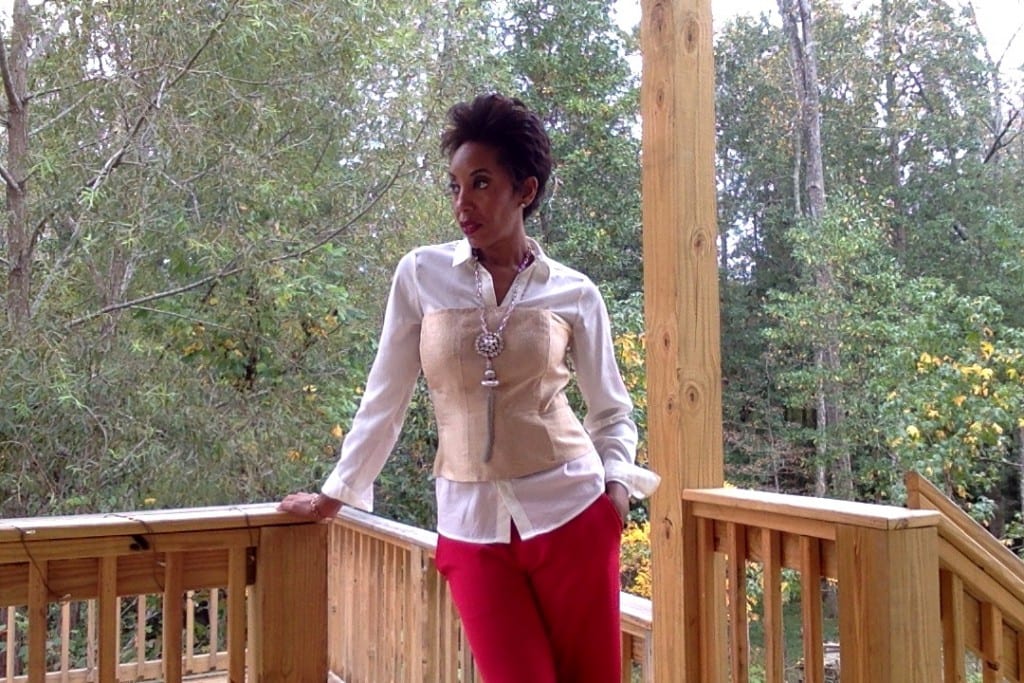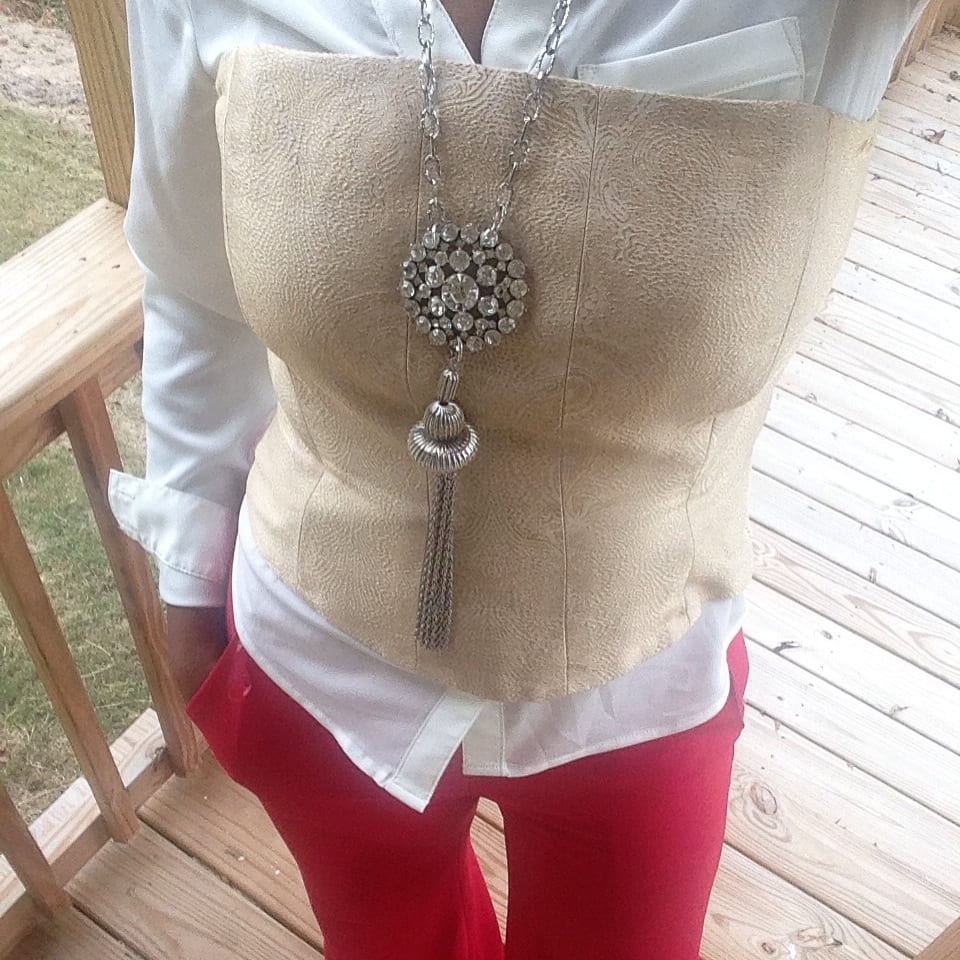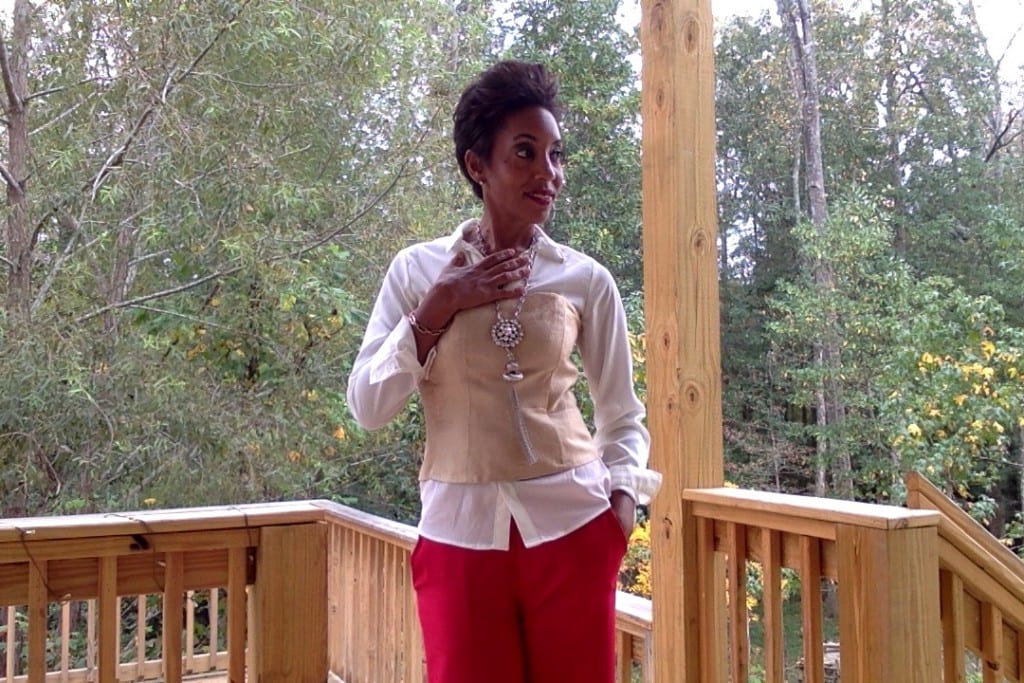 Accessories give you and your outfit the opportunity to make a tremendous statement. I prefer pieces that are insanely different and are eye-catching. My necklace is crafted by my favorite vintage jewelry designer, Kerry Leasure at Here a Chick There a Chick. She uses only vintage pieces to tell compelling stories. Each of her pieces are old souls that have lived in some time past but have now emerged with new life and new purpose. This one is the perfect length, the rhinestone brooch is perfectly centered and the dangling tassel is an awesome added lengthening element. I chose to veer away from another gold piece but mixed it up by pairing gold+platinum and it works!